Skulturenmuseum Glass Box
Marl, May 2022
This year, 2022, the Museum Glaskasten in Marl has moved to a new location. The entire building complex is now being renovated and reconstructed. The museum with its collection will not return to this place.
The complex, which until then housed the museum, is an exciting and unique example of Brutalist architecture.
With my sound art project I was able to pay homage to the place before it finally changes its form and function. In the empty former museum rooms I was able to realize a soundart performance. I recorded an acoustic inventory, an acoustic fingerprint of the place, edited it and archived it for the future.
Two experimental arrangements in the former sculpture museum Glaskasten Marl.
The first experimental arrangement consists of sounds brought into the room. They are electronically modeled sounds produced in the space. There is an initial idea of what instruments will be used. How and why is decided on the spot in improvisation with them. Like a sculpture of sound positioned in space. The rooms in the museum are empty. No artwork is on display. The electronic sound that is sent into the room takes on the role of the work of art, the sculpture. It becomes a sculpture of sound. But it is also a changeable, kinetic sculpture that temporarily moves through the rooms.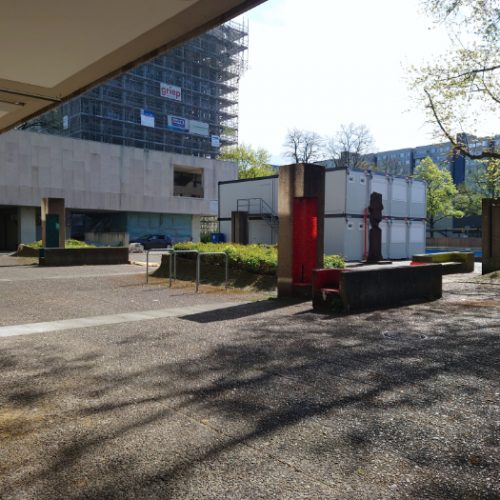 In the second experimental arrangement, I worked with the space. Here I took the sounds that were already present in the room (from outside as well as inside) and amplified them back into the room. This resulted in feedbacks that I continued to work with. I played with the individual, specific frequencies, the standing waves that resulted from the material, and thus made the whole room vibrate.
The room belonged to itself.
Depending on the location and material, different frequency ranges stood out and were more present than others. There were also sounds that were not so audible in the room, which spread through the material, the walls. I also took those off and played them in the room.
This also resulted in surprises in the sound spectrum of the feedback.