ex/ peri/ mental
Performative audio-visual installation at Museum Ostwall,
6th floor of the Dortmunder U on 15.02.2023, more information: Museum Ostwall>>>
Duration of the installation: 15.02.2023
Opening hours: 19:00 – 21:00
What happens inside an art museum while one exhibition is being taken down and the next is being set up? What artistic potential does this "in-between" hold?
It is precisely on this question that Freya Hattenberger and Peter Simon are developing the site-specific installation and performance "ex/ peri/ mental", which as a one-day event allows an exclusive look behind the scenes of the exhibition construction and illuminates the perception of the museum as a "rough cube" instead of a white cube.
Hattenberger and Simon directly and intensively weave the acoustic and spatial peculiarities of the construction site into their artistic intervention, which can be walked through in a circular course. Performative interventions by the two artists at interconnected stations change the parameters of the audio-visual installation and allow a repeated "round walk" through the raw spaces with constantly recomposing elements of contemporary live art, kinetic media set-ups, and electronic music.
Revisited: Generators and Generations – Audio Feature by Peter Simon & Freya Hattenberger
Revisited: Generators and Generations. Experiments – Music – Electronics in NRW #audio is now the third edition of this research, in which listeners can this time immerse themselves in the sonic side of the media arts. Starting with the founding of the WDR's electronic music studio in Cologne, authors Freya Hattenberger and Peter Simon trace paths that musicians and artists in the field of experimental music have followed in the region, and let many of the players from then and now have their say. When the Cologne recording studio was founded in 1951, it was the first of its kind in the world and was thus able to attract renowned musicians such as Györgi Ligeti, Henry Pousseuer, Gottfried Michael Koenig and others to the Rhineland, who artistically explored the technical possibilities on site and created important avant-garde compositions. A lot has changed since then. Instead of an almost baroque-looking studio with closet-sized technology, today a laptop and handy instruments are often all that is needed to produce flexibly at home and publish online.
With
Gertrud Glosemeyer, sound engineer WDR, AD
Wiebke Spieker, musicologist
Markus Hassler, sound engineer, WDR
Dirk Reith, Professor AD, Folkwang University of the Arts, Essen
Dirk Franken, sound engineer, WDR
Denise Ritter, sound artist, composer
Miki Yui, composer, artist
Joker Nies, musician, improviser, technician, author
hans w koch, artist, Professor Academy of Media Arts KHM, cologne
Stefan Schneider, musician
Music by: Miki Yui, Denise Ritter, Joker Nies, hans w koch, Stefan Schneider
With:
Waltraud Blischke, Lecturer Robert Schumann University, Düsseldorf
Mari van Dus, musician, music activist
Till Kniola, label operator, organizer
Achim Zepezauer, artist, organizer
Frank Dommert, A-Musik founder and co-operator, organizer
Joker Nies, musician, improviser, technician, author
hans w koch, artist, Professor Academy of Media Arts KHM, cologne
Dirk Reith, Professor AD, Folkwang University of the Arts, Essen
Stefan Schneider, musician
Music by: N(33), Achim Wollscheidt, Damian T Dziwis, Konrad Kraft, Limpe Fuchs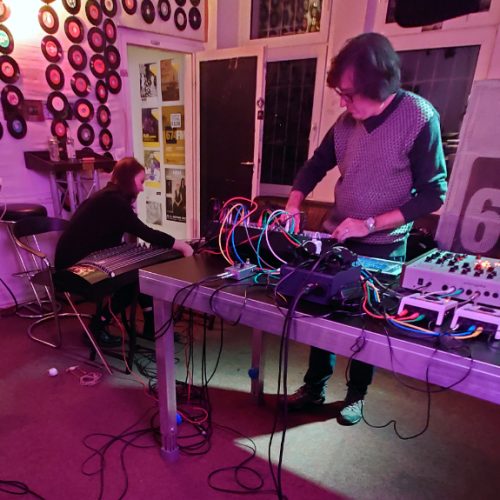 Freya Hattenberger & Peter Simon – presents STRING THEORY
Talk and sounds from Les Éclairs and other projects.
ON 674FM at FUNKT Sessions 08.11.2022, 16:00 CET
FUNKT sessions is a radio format with electronics and sound art from cologne
every 2nd & 4th Tuesday 16-18 h @674.fm
and every 1st Thursday 19-21 h Radio Studio Néau / Eupen @
studioneau.be

Freya Hattenberger and Peter Simon have been cooperating in joint sound art and performance projects since 2008.
They have long been concerned with the interaction between the audible and the visible – as well as the invisible side of architecture.
On the one hand, the project "MEANDER TAPES – Tender Sounds For Brutalist Architecture" takes up the character of sounds floating around in space. He also refers to the meander as an ornament, which first appears as a structural architectural element in the form of friezes. She is interested in the contradiction between the rigid, massive, hard materiality of concrete and the fluid sound that fills every form. Sound is the medium that adapts to the shape and structure of the space, describing it, bringing it to life and defining a new dimension. The building is their instrument. When they are in this resonance space, they become sound generators – and thus part of the instrument.
Another work they will present is "IHNAHE EXHALE." Here, bioacoustic methods make the actions of microbes audible, with which they enter into an artistic dialogue. The sonic result in turn influences the sonified processes themselves, evoking deeply felt respect for all that is alive. The work "Terra Incognita" can also be heard in this context. Here, sounds produced directly in a natural environment meet the inhabitants of the habitat. Various moments of irritation arise in this dialogue.
In the project STRING THEORY they explore the interspatial and interpersonal.
The thematic focus of their live set is the interaction and mutual influence of scientific knowledge and acoustic perception.
MARL INDUSTREAL – 01_state of the art lift system
Written and produced by Peter Simon
Camera: Tom Briele
Recorded Live in the empty Skulpturenmuseum Glaskasten Marl in 2022
Mastering by Clos et Omono 2022 on REVOX A77, SM 468 from Recording The Masters
Thanks to: Georg Elben, Stephan Wolters, HPP Architekten GmbH, Sebastian Helm, Detlef von Homeyer, Onur Karaca and Tom Briele for the great video work
This experimental arrangement consists of the sound that is brought into the room. It is electronically modeled sounds that are produced in the room. There is an initial idea of which instruments will be used. How and why is decided on the spot in the improvisation with them. Like a sculpture of sound that is positioned in the space. The rooms in the museum are empty. No works of art are exhibited. The electronic sound that is sent into the room takes over the role of the work of art, the sculpture. It becomes a sculpture of sound. But it is also a changeable, kinetic sculpture that temporarily moves through the rooms.
Everything is improvised. It emerges directly in the moment, it grows, moves through the space and disappears again, fizzles out, until a new sound comes and spreads.
Brutalism as an architectural style is a worldwide phenomenon. It is the architecture in which we grew up. A love-hate relationship connects us with these buildings, whose fascination is fed by the monolithic.
School buildings, museums, city halls, libraries… at the moment we are experiencing a paradigm shift and see these buildings threatened with demolition. More and more of these complexes are disappearing from the cityscape. Structural substance is crumbling, the preservation of historical monuments is dealing with them. Brutalism once again becomes a generational issue.
Brutalism is a system outside political ideologies. Whether in Texas, Brussels or Bratislava; Brutalist buildings were built both in the communist Eastern Bloc and in the capitalist West.
MARL INDUSTREAL – short documentation of the working process
In this second experimental setup I worked with the room. Here I took the sounds that were already present in the room (from the outside as well as from the inside) and amplified them and played them back into the room. This resulted in feedbacks that I continued to work with. I played with the individual, specific frequencies, the standing waves that resulted from the material, and thus made the whole room vibrate.
Depending on the location and material, different frequency ranges stood out and were more present than others.
STRING THEORY
by Peter Simon & Freya Hattenberger
Sound performance at the end of the exhibition of Freya Hattenberger "Tomorrow I'll return and continue", photography and installation.
19.06.2022, Coelner Room, Schirmer Strasse 39, 40211 Düsseldorf, Germany
Live Synth Session with the Ocean 2021
Atlantic + Moog + stereo mics + surf&waves
Camera: Freya Hattenberger
Edit: Peter Simon
Music: AtomBeauRough 2021 ©
Bangalore BANG !

by Peter Simon & Freya Hattenberger on FUNKT
The composition 'BANGALORE BANG!' was created from audio material collected on site during the residency at the Goethe Institute / Max Mueller Bhavan in Bangalore, India.
We were particularly interested in recording the acoustic 'fingerprint' of the country's rapidly growing megacity and IT metropolis. In this audio piece, we consider the interplay of urbanism and city planning and engage with the city's residents and their lives. Materiality, speed, urban structure and the fluid reality of Indian culture form an ornament of sound in this composition.
Special thanks to Goethe-Insitute / Max Mueller Bhavan and bangaloREsidency